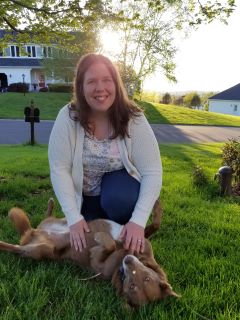 Amanda VanVolkinburg joined the Goldwyn and Boyland team in the fall of 2017. She graduated from SUNY at Buffalo in 2008 with her Doctorate in Physical Therapy. Her professional experience leading up to joining the G&B team includes working in the skilled nursing setting in the greater Binghamton area and traveling as a contract physical therapist with her college friend, primarily working in acute care settings in North Carolina, South Carolina and Albuquerque, NM. Most recently she worked in short term rehabilitation at the Centers of St. Camillus in Syracuse, NY. Amanda's time at St. Camillus led to new professional and personal roots being laid down in Central NY. Through them, Amanda came to form a relationship w/ G&B and was introduced to Associative Awareness Technique (AAT). This has led to a healing journey personally and an entirely new career path professionally.
Amanda has always been passionate about helping people and has the goal to help any human who walks through the door reset from trauma and set sail on a new path. Amanda greatly values the many nuances of the human experience and the impact from physical, emotional, mental, energetic and spiritual health. Her goal is to provide comfort, inspiration and direction to help you achieve your movement goals. Amanda's current professional interests and learning include AAT, Blomberg Rhythmic Movement Training, Tai Chi, women's health, and learning ways to help positively influence the central and autonomic nervous systems.
Amanda also finds joy in studying art, snuggling her pets, quoting movies and all things Harry Potter. She loves being a part of the G&B family and is excited to continue learning, growing and helping others.