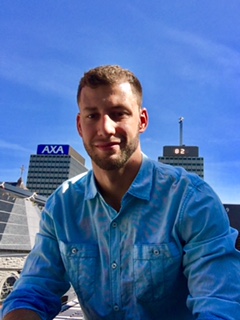 Dr. Dillon Caswell joined the Goldwyn & Boyland team in July of 2017 after graduating with his Doctorate in Physical Therapy from SUNY Upstate Medical University. Prior to his Doctoral degree, Dr. Caswell graduated Cum Laude from Syracuse University with a B.S. in Exercise Science and Magna Cum Laude from Onondaga Community College with an A.A.S. Physical Therapist Assistant. He has presented his research on Gait changes in people suffering from Concussions at the 2017 American Physical Therapy Association yearly national conference in San Antonio Texas.
Dr. Caswell now serves as an adjunct professor in SUNY Upstate's Doctoral of Physical Therapy program along with providing continuing education weekend courses to personal trainers and coaches.
After completing clinical at Goldwyn & Boyland, PT and Baylor Outpatient clinic in Dallas, Texas, he realized his passion for working with athletes of all ages and is a Board-Certified Sports Specialist. Dr. Caswell has undergone emergency medical response training to offer on field coverage for local high school and professional teams alongside Dr. David Boyland. Dr. Caswell served as a member of the 2018 Eastern regional CrossFit medical team, where he provided medical and therapeutic services to the top CrossFit athletes from around the world. He is also the primary provider for the Syracuse Chargers Rugby club.
Dr. Caswell manages our Syracuse location partnered with Core Fitness. He is passionate about providing services to allow the community to continue to participate in their job, hobbies, and sport. He has undergone further training to become a provider in the following areas: Blood flow restriction rehabilitation specialist from Wichita State University, Autonomic awareness and Blomberg rhythmic movement training to treat chronic pain, concussions, autonomic nervous system dysfunction, and load management to improve sports performance. Dr. Caswell has also completed Mike Reinold's shoulder seminar to become a shoulder rehabilitation expert.
He has teamed up with the [P]Rehab Guys as writer, content creator, and is the host to their podcast in order to work toward the goal of influence and putting the power of healthcare back into people's hands via prevention. Dr. Caswell is passionate about fitness, wellness, mindfulness, and continues to pursue his own athletic endeavors by competing in CrossFit and Olympic lifting competitions regionally.
Email: This email address is being protected from spambots. You need JavaScript enabled to view it.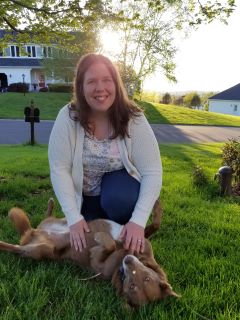 Amanda VanVolkinburg joined the Goldwyn and Boyland team in the fall of 2017. She graduated from SUNY at Buffalo in 2008 with her Doctorate in Physical Therapy. Her professional experience leading up to joining the G&B team includes working in the skilled nursing setting in the greater Binghamton area and traveling as a contract physical therapist with her college friend, primarily working in acute care settings in North Carolina, South Carolina and Albuquerque, NM. Most recently she worked in short term rehabilitation at the Centers of St. Camillus in Syracuse, NY. Amanda's time at St. Camillus led to new professional and personal roots being laid down in Central NY. Through them, Amanda came to form a relationship w/ G&B and was introduced to Associative Awareness Technique (AAT). This has led to a healing journey personally and an entirely new career path professionally.
Amanda has always been passionate about helping people and has the goal to help any human who walks through the door reset from trauma and set sail on a new path. Amanda greatly values the many nuances of the human experience and the impact from physical, emotional, mental, energetic and spiritual health. Her goal is to provide comfort, inspiration and direction to help you achieve your movement goals. Amanda's current professional interests and learning include AAT, Blomberg Rhythmic Movement Training, Tai Chi, women's health, and learning ways to help positively influence the central and autonomic nervous systems.
Amanda also finds joy in studying art, snuggling her pets, quoting movies and all things Harry Potter. She loves being a part of the G&B family and is excited to continue learning, growing and helping others.
Dr. Dave Boyland has been a practicing physical therapist/athletic trainer in Cortland, NY for over 30 years and is a Sports Certified Specialist (SCS). He has provided athletic training services for Homer and Cortland Public Schools and the Golden Eagles Ice Hockey Team over the past 20 years.
His 32 years of athletic training experience have included extensive service to men's and women's sports including ice hockey, football, soccer, basketball, field hockey and volleyball teams. He has been the Director of Athletic Training and Rehabilitation for the USA Team Handball Women's National Team. He was an athletic trainer for SUNY Cortland for eight years, the New York State Empire Games numerous times, and the 1996 Olympic Games in Atlanta, GA.
Dr. Boyland is an Assistant Professor Emeritus at SUNY Upstate Medical University where he continues to teach in the area of sports physical therapy. He taught Physical Therapy courses at Upstate Medical University in the areas of movement analysis of the extremities and spine, therapeutic interventions, and wellness. His publications include "The Influence of Balance and Postural Control on Shoulder Function in a Patient with Chronic Rotator Cuff Pathology", Orthopaedic Practice . 2011;23:14-19. He has done more than 40 professional presentations in the areas of sports injuries, prevention, and functional assessment/interventions to athletic trainers, physical therapists, and other medical professionals.
Dr. Boyland graduated from Canisius College, Buffalo, NY, in 1981. In 1983, he completed a Master of Science Degree in Physical Education with an Emphasis in Cardiac Rehabilitation from Eastern Illinois University, Charleston, IL. He completed a Bachelor of Science Degree in Physical Therapy from SUNY Upstate Medical University, Syracuse, NY, in 1990. In 2006, he graduated from the University of St. Augustine for Health Sciences, St. Augustine, FL, with a Doctor of Physical Therapy Degree.
Email: This email address is being protected from spambots. You need JavaScript enabled to view it.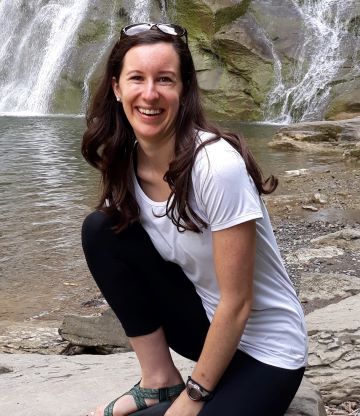 Kelly joined the Goldwyn & Boyland team in 2015 as a physical therapist/ strength and conditioning coach. She completed her undergraduate work at SUNY Geneseo with a B.S. in biology and was a member of their Track and Cross Country teams. Kelly then graduated from SUNY Upstate Medical University with her Doctorate of Physical Therapy degree and immediately came to Cortland after having a great clinical experience at Goldwyn & Boyland during medical school. She is a certified strength and conditioning coach (CSCS) and is also a board certified orthopaedic clinical specialist (OCS). She is currently working on becoming a certified BirthFit! Coach.
The combination of physical therapy and fitness coaching with Move Better Fitness represents only part of Kelly's passion for wellness. In 2018 she created the G&B Wellness program with a vision of guiding individuals to their highest potential for improved quality of life for the whole person; mind, body, and spirit. This mindset of the "whole person" is a primary focus when working with her physical therapy clients. One of Kelly's passions is building a connection with people and encouraging them on their journey of wellness. Kelly has a heart to encourage and uses her gifts to walk with patients through the transitions of rehab towards meeting an individual's goals. Whether a runner wanting to get back to the trails or someone's goal of getting up from the floor, Kelly loves to see patients do what they previously thought impossible. Kelly also uses these skills for helping clinical students on their own journey and appreciates the opportunities to help others grow.
Kelly enjoys many activities on her own wellness journey. Her favorite things involve spending time with her community of family, friends and faith. Kelly is an aspiring 46er of the Adirondack Mountains and she loves to be out in nature. Besides running, skiing and a new addition of cycling, she enjoys moving in different ways and is open to new adventures. Kelly loves music and when practicing in the Cortland office, she enjoys the privilege of being the clinic's DJ of music and has been frequently called the "singing PT".
Greg Streblow has been part of the Goldwyn and Boyland team since 1999, as both a Physical Therapist and Strength and Conditioning Coach. Prior to joining Goldwyn and Boyland, Greg was a fitness coach for individuals and groups, including middle and high school teams, and he developed and led award-winning physical training programs for his fellow soldiers while serving in the US Army. He has been training, coaching and rehabilitating athletes and active people of all ages for over 25 years.
Greg is currently the lead Physical Therapist at our Cortland location, helping people overcome injuries, pain and nervous system conditions, to return to their jobs, sports, hobbies and day to day life. He is proud to see his patients' hard work pay off and to see them accomplish their goals, whether that's playing for a championship or playing in the backyard, climbing mountains or climbing the stairs.
Greg also developed and leads our Move Better Fitness programs for clients of all ages and abilities, among the first physical therapy clinics in New York state to offer such a program. Greg has a passion for helping people not just recover from injuries, but to avoid them in the first place. In addition to helping people stay healthy with our programs on-site, Greg has worked with many teams to dramatically reduce injury rates in athletes ranging from local schools, to collegiate national champions, to Olympic athletes as part of the US Olympic Committee sports medicine and strength and conditioning programs.
Greg also regularly shares his expertise by teaching students and fellow medical and fitness professionals. He is a lecturer for graduate and undergraduate programs at SUNY Cortland and Upstate Medical University, and leads internship experiences for students from several other universities as well. He has been an invited speaker at regional medical and fitness education conferences and has been a featured expert on strengthcoach.com, one of the world's leading sources for coaching education. He also co-created and teaches a series of coaching continuing education workshops along with Dr. Dillon Caswell.
He has been a competitive athlete himself as a runner, cyclist and triathlete. He currently enjoys staying active by continuing to run, hike, climb mountains and other outdoor adventures.
Email: This email address is being protected from spambots. You need JavaScript enabled to view it.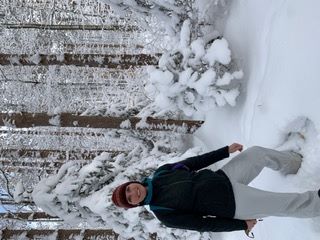 Susan Ives is a Physical Therapist Assistant who joined the Goldwyn & Boyland team in 2013 after graduating Summa Cum Laude from Onondaga Community College. She was a Physical Therapist Assistant A.A.S. Curriculum Honors student during her studies.
Her time spent at OCC started her journey to her second career as a PTA at Goldwyn &Boyland. Before this she was a certified athletic trainer who earned her Bachelors of Science in education at SUNY Cortland. She carried out a graduate assistantship at Cornell University for two years while getting her master's degree in Sports Medicine from Ithaca College in 1995. During her two-year assistantship at Cornell she worked with the women's soccer and gymnastics teams.
Susan began her professional career in 1995 working for Sports Physical Therapy of New York in Syracuse as a certified athletic trainer in both clinical and high school settings. While in Syracuse, she had the opportunity to work with area high school teams in a variety of sports including wrestling, football, hockey, and lacrosse. She enjoyed the responsibilities that came with the split between outpatient rehabilitation in the clinic and sports medicine coverage in high schools.
From 1999 to 2004, Susan was thrilled to return to work at Cornell University as the head athletic trainer of the women's gymnastic team, men's and women's swimming and diving teams, and aquatic therapy instructor. Four years were spent traveling with the women's gymnastic teams including when the team competed in the USAG National Collegiate Championships.
After becoming a mother of two, Susan decided to place her focus on raising her young children. When her children became school aged, she returned to school at Onondaga Community College. OCC gave her the ability to begin her second career at Goldwyn & Boyland. Even though the journey was long, it has given her the opportunity to change the lives of so many from all ages and ability levels.
Susan spends her free time enjoying her family's company, cycling and hiking with her husband, and gardening during the short summer months. It also brings her joy to use her abilities to strengthen the local citizens in her Strength and Balance class at St. Leo's Church in Tully.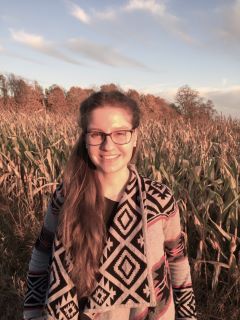 Kristen Thompson has been a member of the Goldwyn & Boyland team since 2015. She graduated Summa Cum Laude with her Physical Therapist Assistant A.A.S. degree from Onondaga Community College, where she also received the Curriculum Honor Student Award. Growing up in South Africa, she discovered a passion for helping people of all cultures and backgrounds. She loves that she is now able to work alongside the team at Goldwyn & Boyland putting that passion into practice.
Kristen believes in the power of community when it comes to achieving personal goals. That is why she loves partnering with patients to help them on their own unique wellness journey. While she is committed to helping all patients, Kristen has a special interest in treating patients with chronic pain and chronic illnesses. Furthermore, Kristen has a passion in physical therapy treatment for patients with Parkinson's disease. She has undergone further training for the most up to date and innovative techniques for this population. She has also attended continuing education courses covering the following techniques: Autonomic Awareness Training (AAT), Blomberg Rhythmic Movement Training (BRMT), and Selective Functional Movement Assessment (SFMA).
When she is not in the clinic, Kristen enjoys spending time with her family and friends, volunteering with a community youth program, knitting, writing, running, and swimming.