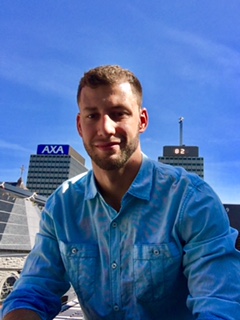 Dr. Dillon Caswell joined the Goldwyn & Boyland team in July of 2017 after graduating with his Doctorate in Physical Therapy from SUNY Upstate Medical University. Prior to his Doctoral degree, Dr. Caswell graduated Cum Laude from Syracuse University with a B.S. in Exercise Science and Magna Cum Laude from Onondaga Community College with an A.A.S. Physical Therapist Assistant. He has presented his research on Gait changes in people suffering from Concussions at the 2017 American Physical Therapy Association yearly national conference in San Antonio Texas.
Dr. Caswell now serves as an adjunct professor in SUNY Upstate's Doctoral of Physical Therapy program along with providing continuing education weekend courses to personal trainers and coaches.
After completing clinical at Goldwyn & Boyland, PT and Baylor Outpatient clinic in Dallas, Texas, he realized his passion for working with athletes of all ages and is a Board-Certified Sports Specialist. Dr. Caswell has undergone emergency medical response training to offer on field coverage for local high school and professional teams alongside Dr. David Boyland. Dr. Caswell served as a member of the 2018 Eastern regional CrossFit medical team, where he provided medical and therapeutic services to the top CrossFit athletes from around the world. He is also the primary provider for the Syracuse Chargers Rugby club.
Dr. Caswell manages our Syracuse location partnered with Core Fitness. He is passionate about providing services to allow the community to continue to participate in their job, hobbies, and sport. He has undergone further training to become a provider in the following areas: Blood flow restriction rehabilitation specialist from Wichita State University, Autonomic awareness and Blomberg rhythmic movement training to treat chronic pain, concussions, autonomic nervous system dysfunction, and load management to improve sports performance. Dr. Caswell has also completed Mike Reinold's shoulder seminar to become a shoulder rehabilitation expert.
He has teamed up with the [P]Rehab Guys as writer, content creator, and is the host to their podcast in order to work toward the goal of influence and putting the power of healthcare back into people's hands via prevention. Dr. Caswell is passionate about fitness, wellness, mindfulness, and continues to pursue his own athletic endeavors by competing in CrossFit and Olympic lifting competitions regionally.
Email: This email address is being protected from spambots. You need JavaScript enabled to view it.